What Happens at Lunchtimes?
At Sandling we believe it is very important that each child has the opportunity to enjoy their lunch hour with their friends. It is a time to refuel adequately for the afternoon activities and a time to have fun. At lunchtimes the hall is transformed into a dining room for the children to eat their lunch.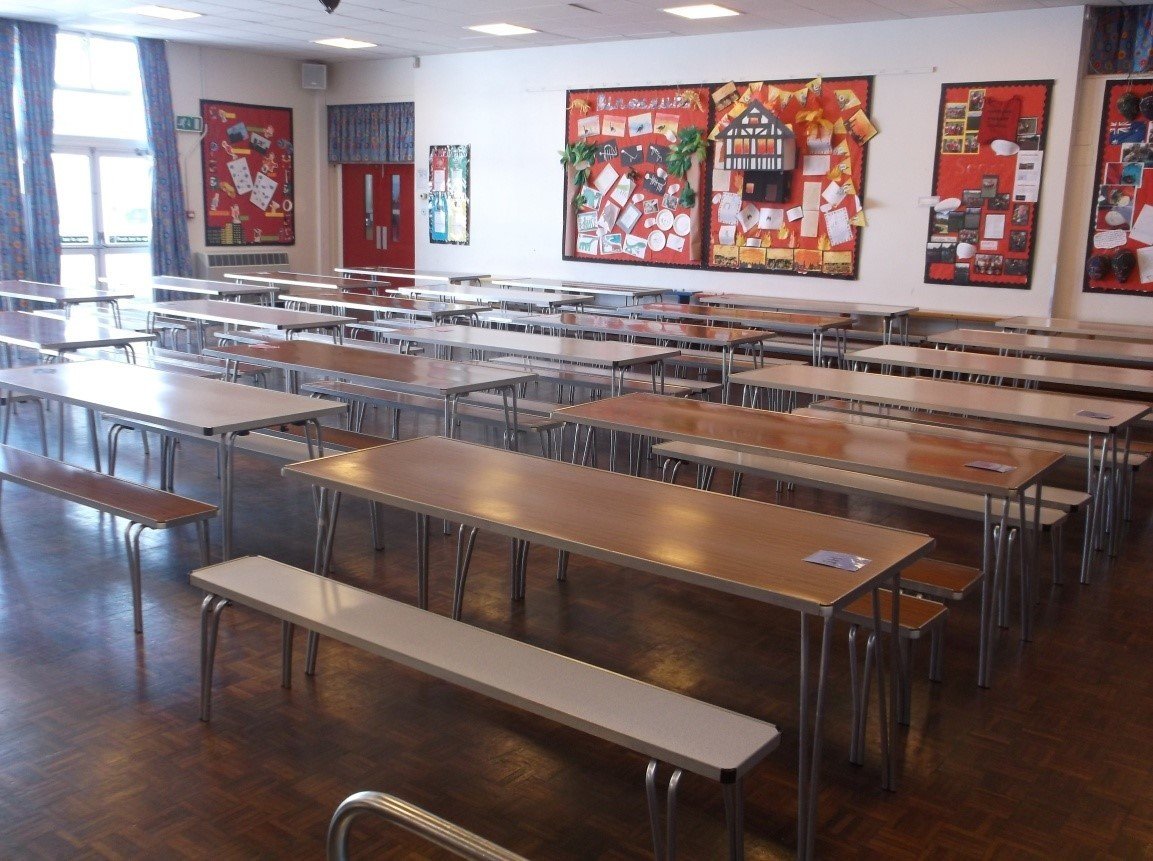 Tables are laid out in rows: 8 children seat at each table with 4 children on each bench.

We have a team of midday supervisors to facilitate this.

A midday supervisor is responsible for a whole row of tables, which creates familiarity for the children and consistent daily supervision over eating and behavior.

Those children who bring in a packed lunch can sit together at the same table as those in their class who have a school dinner.

Timetable

12. 00 KS1 children all eat together in the first sitting.

In the space of thirty minutes all 120 children have the opportunity to sit and eat their lunch before they go outside to enjoy playtime in the playground. Most children in this sitting take up the government universal infant free school meals.

Classical music is played 5 minutes before the end of each sitting which the children recognise as being a signal that they need to finish their lunch, sit up nicely and be ready for lining up.

12.30 KS1 leave to go outside and play. Children who require additional time to finish eating are provided with a table for this.
Year 3 and 4 enter the hall to eat their lunch.
Year 5 and 6 go out onto the playground or field (weather dependent)

1.00 Year 3 and 4 exit the hall and go out onto the playground or field
Year 5 and 6 enter the hall to eat their lunch
There are 2 playleaders who organise activities outside. They encourage children to participate in group games and are a valuable resource for children who sometimes require additional social skills. They have a wonderful range of resources from skipping ropes, hoops, beanbags and are very popular.

In KS1 each child who has school dinner is handed a tray and cutlery. In KS2 to promote independence the children help themselves to their tray and cutlery as they line up and wait to take their hot meal.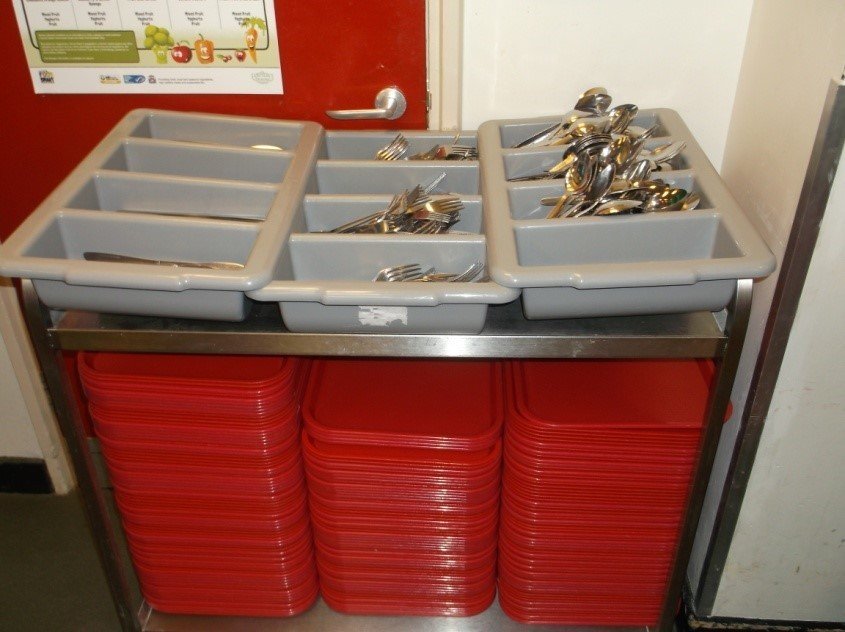 All meals are freshly prepared and cooked on site. Food is cooked in line with government standards and in line with the schools' food policy, all children must have at least one portion of vegetables with their meal.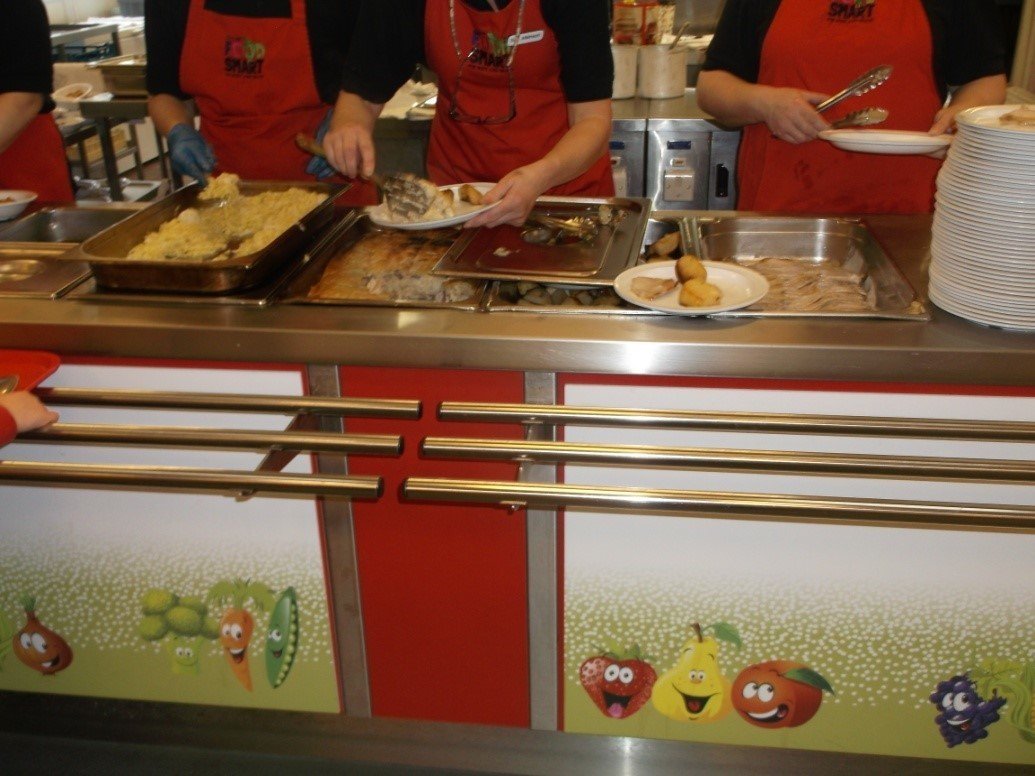 In KS1 they have the vegetables available from the menu served by the kitchen staff. They then move their tray along to the salad trolley where they are offered home made bread that is baked every day and a choice of extra portions of salad vegetables.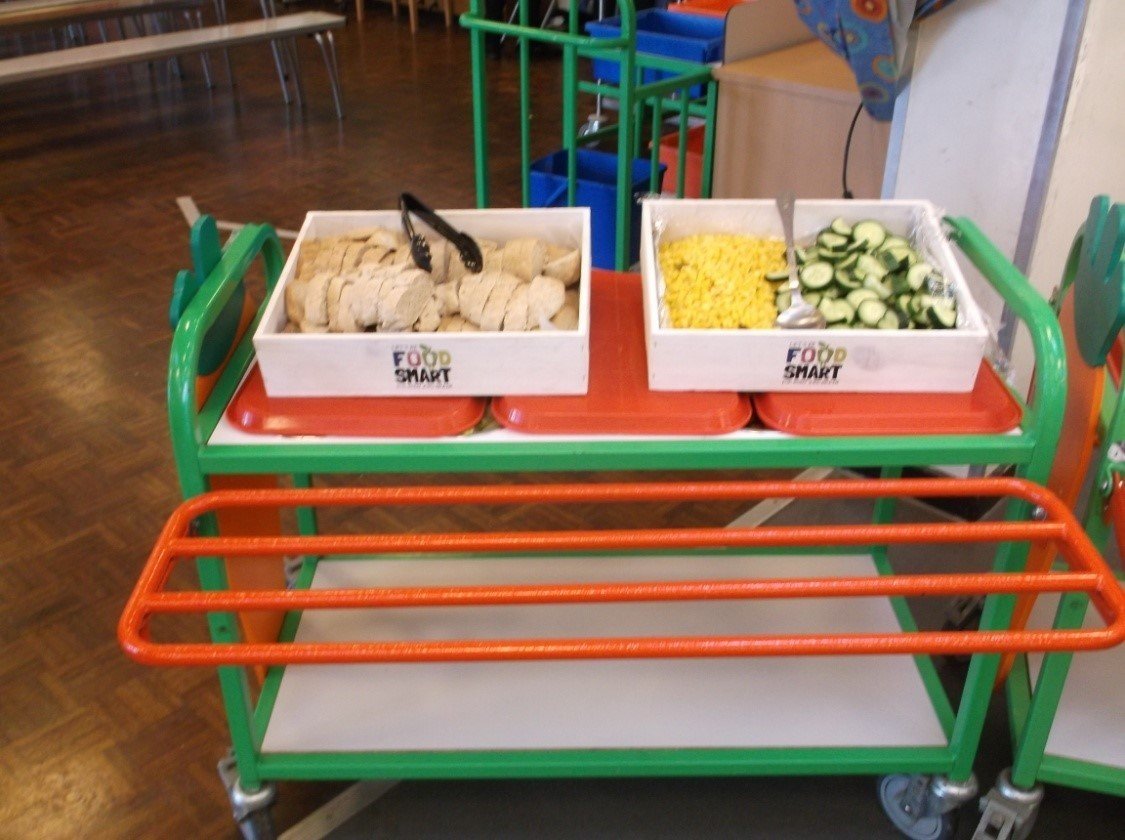 For dessert, they have the option of deciding whether to choose the pudding from the seasonal menu, including yoghurt which is served in dishes which can be reused.

There is also selection of fresh fruit: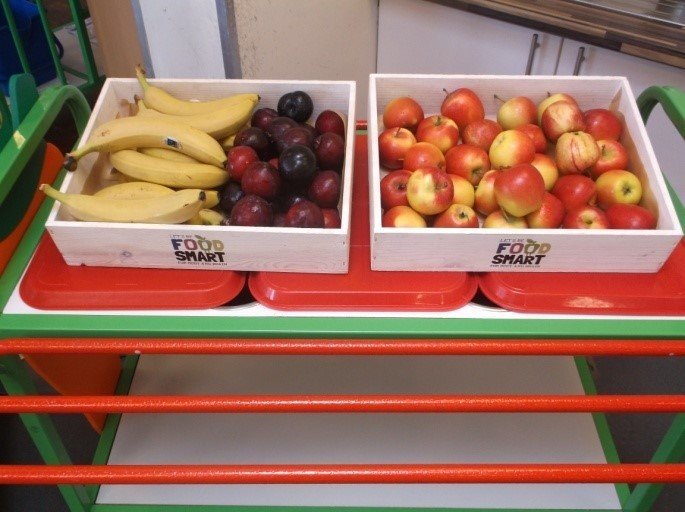 For KS2 there is a wider selection of salad vegetables and these are served by upper key stage pupils: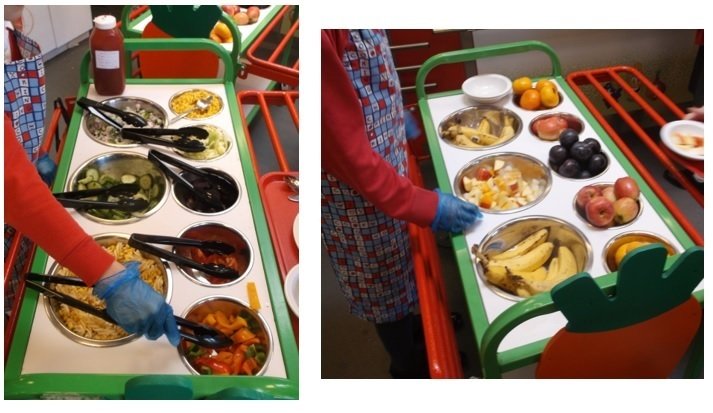 The food is visually appetising, colourful and fresh.

It is important that children remain adequately hydrated throughout the day. All children are offered water to accompany their lunch and refills are always available.
Once the children have finished their dinner, they bring their trays to the clearing trolley. KS1 are assisted by a member of the MDMS team, KS2 are encouraged to do this independently.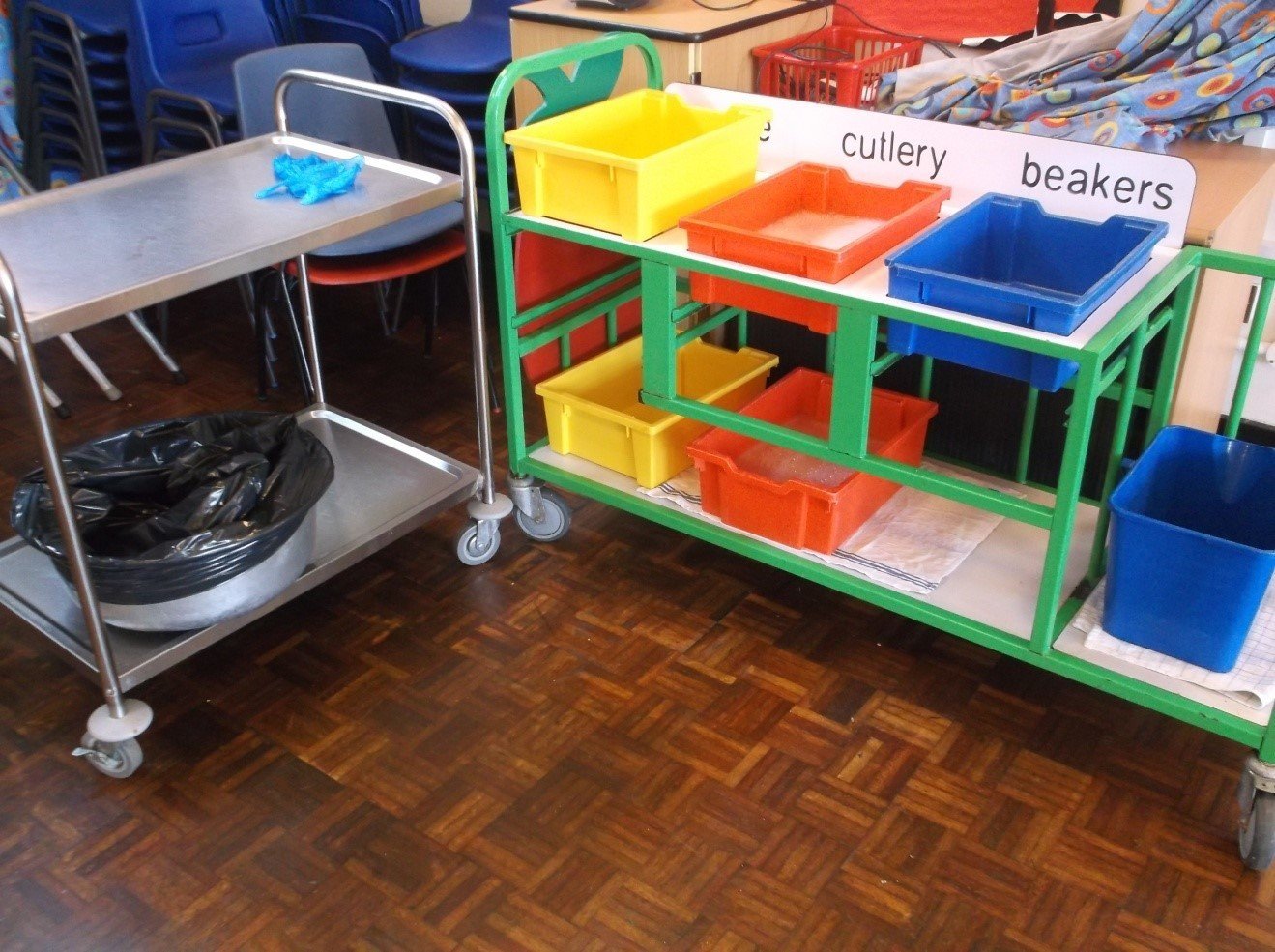 Any remaining time in the lunchtime sitting, the children are offered activities to entertain them. These are rotated on a weekly basis to keep their interest and are very well received.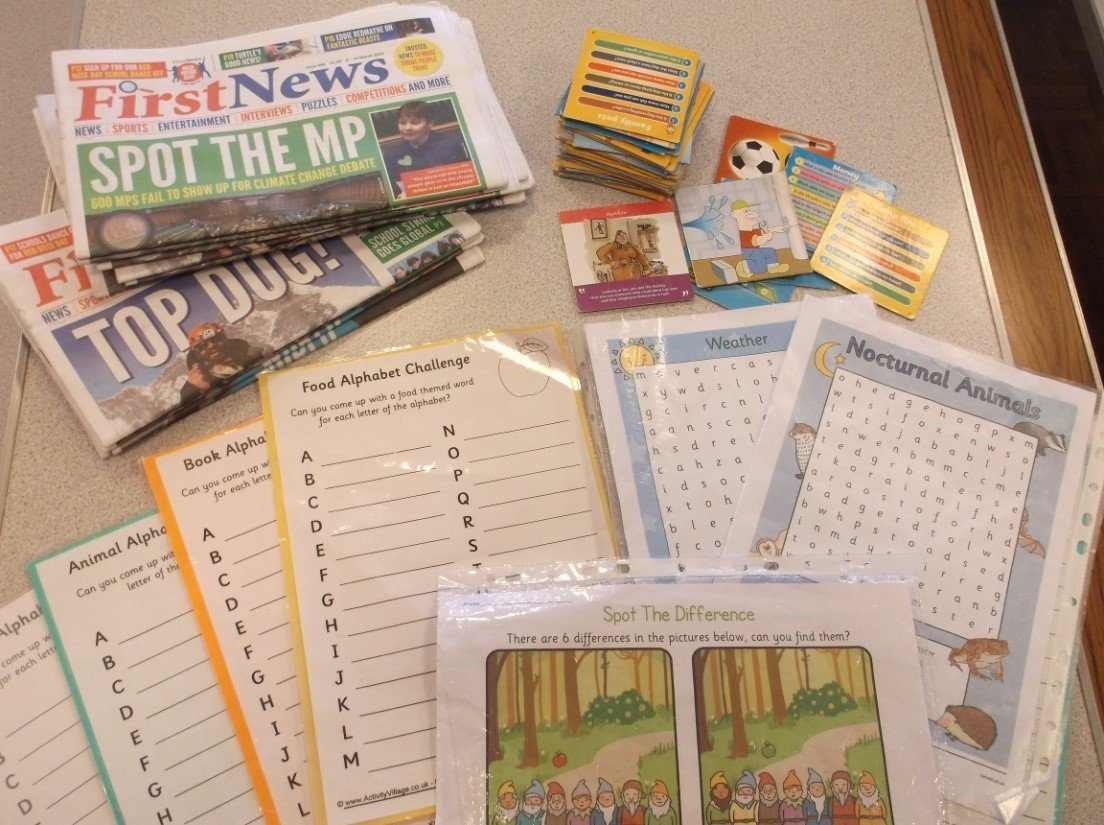 It is our key objective to ensure that children are happy healthy and kept safe during their lunchtimes. We conduct a MDMS survey annually to ask the children their opinions of their experience and where possible take into accounts their views.
Lunchtime is a wonderful part of the school day